The vaccination campaign was divided into different phases: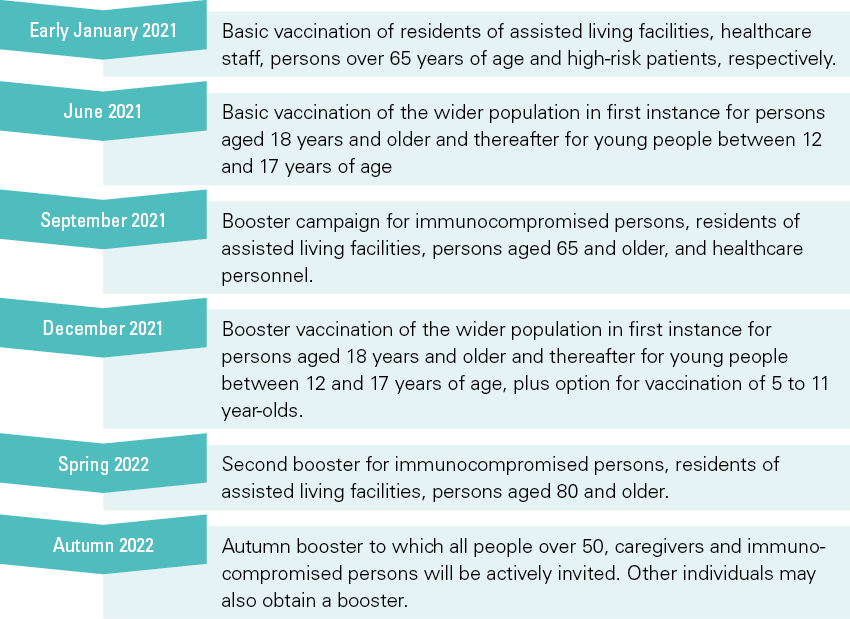 The graphic below gathers data from all persons who received a vaccine. By 31 October 2022, 79% of the total Belgian population had been given a basic vaccination. In addition, 62% had also been given a first booster vaccine, 31% a second booster vaccine and 4% an autumn booster.
PERCENTAGE OF VACCINATED PERSONS BY TYPE OF VACCINATION[1]
Below, we compare the percentage of vaccinated persons aged 18 years and older and the percentage of vaccinated healthcare workers by 31/10/2022. Here, we observe that the percentage of persons who received a complete baseline vaccination is similar. However, we notice a greater variation in the percentage of individuals who obtained a first and second booster. We see that a larger percentage of caregivers obtained a booster. Since the autumn booster, however, we see the first time that the general population was more likely to obtain the booster than caregivers, but this figure may still rise.
VACCINATION RATE AMONG CARE GIVERS
AND PERSONS AGED 18 AND OVER (31/10/2022)
[1]Source: Sciensano