To better illustrate what we are covering in this issue, we invite you to embark on this adventure with three young students, who have just graduated from secondary school.
They are inspired by the thousands of students who, each year, out of curiosity or vocation, embark on studies in healthcare and who will one day join the ranks of health practitioners.
Joël

has always dreamed of working in the medical world. Even as a child, he walked around with a stethoscope in one hand and plasters in the other, ready to treat any injury.

 

 

 

 

 

Nora Found her calling during the pandemic. Inspired by the resilience of the health care professionals on the front lines during the crisis, she too wants to help people.

 

 

 

 

 

 

Deborah, like many young people her age, was not sure what path to take after secondary school. Recently, her family has grown. While visiting her nephew in hospital, Deborah was very impressed by the calm and the competence of the medical staff working around this newborn.

 

 
Our three friends are determined to work in the health field. So what is the next step for them?
First of all, they will have to narrow down their choice.
The medical world is vast and offers a range of choices. In Belgium today, we have more than 670,000 healthcare professionals. They are distributed among more than 20 professions recognised by Belgian law. Some have existed for decades, others for just a few years. After all, the field of health is constantly evolving and the legislation is adapted accordingly. Each of these professions[1], as well as the professional titles and qualifications, are included in the Coordinated Law of 10 May 2015, on the practice of healthcare professions.

OVERVIEW OF THE HEALTH CARE PROFESSIONS AND THE NUMBER OF PEOPLE
ENTITLED TO PRACTICE IN EACH OF THEM.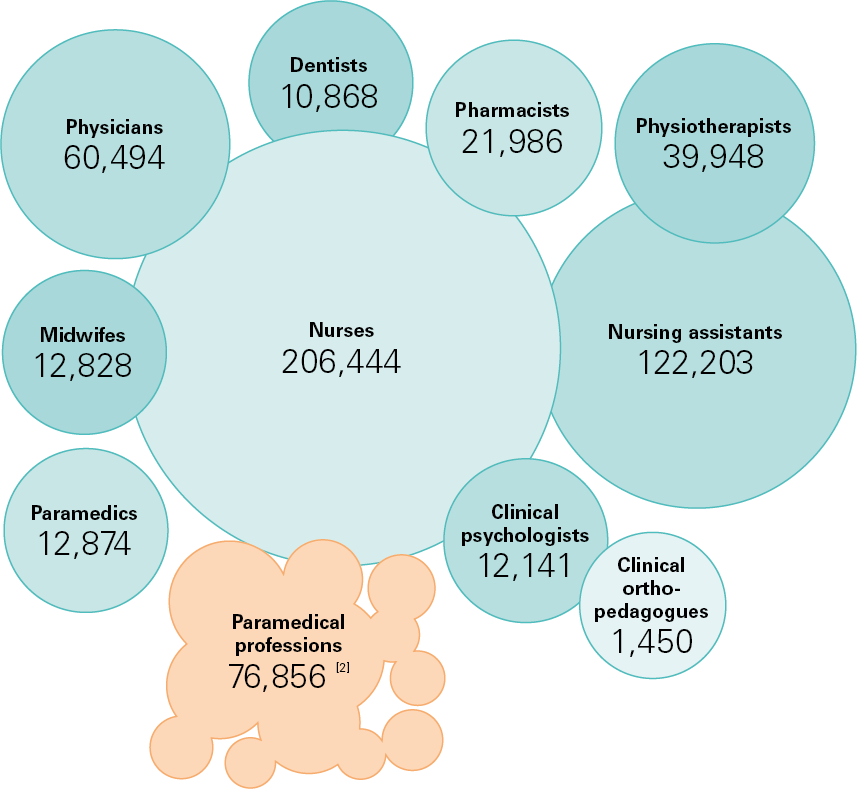 THE NAME "PARAMEDICAL PROFESSIONS"
COMPRISES AROUND TEN DISTINCT PROFESSIONS.[3]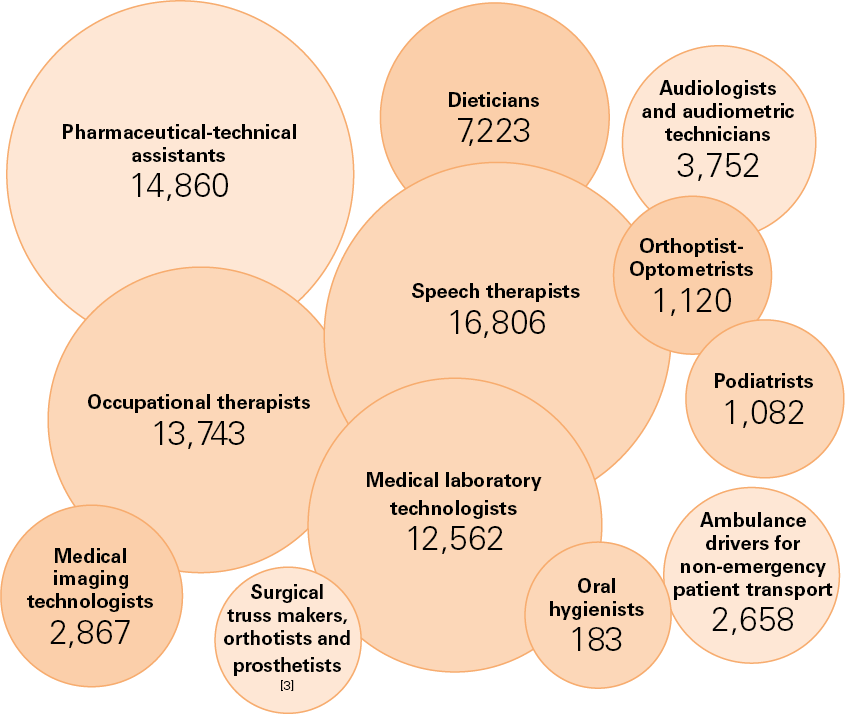 Each of these paramedical professions is governed by its own decree.
Find out more: www.health.belgium.be
All professionals authorised to practise in Belgium are registered in a federal database of health professionals. This database, called the "register" or "e-CAD", has three objectives: to collect the data needed to carry out the missions of the Planning Commission, to enable the execution of the missions of the administration and public agencies, and to improve communication among health professionals[4].
The register[5] contains personal data (first name, surname, address, age, nationality), professional data and data on the academic background of professionals (diploma, institution that issued it, any internship plan, specialisations and skills, accreditation, visa, etc.).
This register therefore provides a summary of every person who has applied to a licensed professional activity. The information contained in this database provides a picture of the profession at a given time and allows trends to be extracted.
Find a healthcare professional: apps.health.belgium.be
TRENDS OBSERVED AMONG PROFESSIONALS ENTITLED TO PRACTISE IN BELGIUM.
It is interesting to note the correlation between the age of the profession and the average age of its practitioners. Long-established professions, such as physicians and dentists, have the highest average age. However, the very recently established professions, such as podiatrists and oral hygienists, tend to have much younger practitioners.
AVERAGE AGE BY HEALTHCARE PROFESSIONAL
Many professions comprise a majority of women.
PROPORTION OF WOMEN BY HEALTHCARE PROFESSIONAL
More data about healthcare professionals: consultativebodies.health.belgium.be
After taking many factors into consideration, the die was cast: Joël would become a nurse, Nora wants to become a speech therapist and Déborah was won over by midwifery.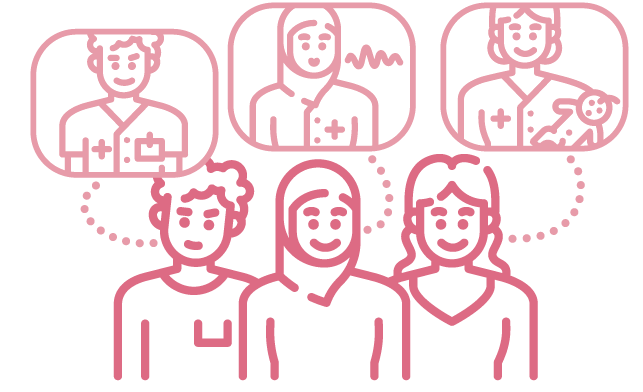 This is where their career path begins.

[1]The graphs below show the different professions and the number of professionals authorised to practise in Belgium.
[2]The professions of surgical truss makers, orthotists and prosthetists are not registered in the FPS Public Health database. Their figures are therefore not included in this publication.
[3]The professions of surgical truss makers, orthotists and prosthetists are not registered in the FPS Public Health database. Their figures are therefore not included in this publication.
[4]Law of 10 May 2015, Articles 97 to 101: https://www.ejustice.just.fgov.be/eli/loi/2015/05/10/2015A24141/justel#LNKR0016
[5]Federal data bank of professionals entitled to provide services | FPS Public Health (belgium.be)