The distribution plan is an essential part of the efforts to ensure the quality of care and to share the burden of care between hospitals.
For this reason, hospitals were asked to distribute patients as much as possible within their own hospital network or within the province. Hospitals were asked to use their own means of transport as much as possible, which is advantageous in terms of equipment and transport staffing.
The hospitals registered 2,460 transportations of COVID-19 patients to a neighbouring hospital over the period 15/03/2020 up to and including 31/12/2020[1]. If there is no transport available, ambu­lances can be called via the 112 centre. Over the period 15/03/2020 and 31/12/2020, 6,291 inter-hospital transports were recorded with the emergency services centre[2]. This includes both transport of COVID-19 and non-COVID-19 patients to support the teams within the emergency centers, a Patient Evacuation Coordination Centre (PECC) was opened at peak times. This is a unit that was set up within the ministry of Defence. The PECC looks at which hospitals have available beds and then arranges for transport. No data are available on the number of inter-hospital transports via the PECC.
NUMBER OF INTER-HOSPITAL TRANSPORTS BY TYPE OF RESOURCE VIA THE EMERGENCY CENTRE FROM 15/03/2020 THROUGH 31/12/2020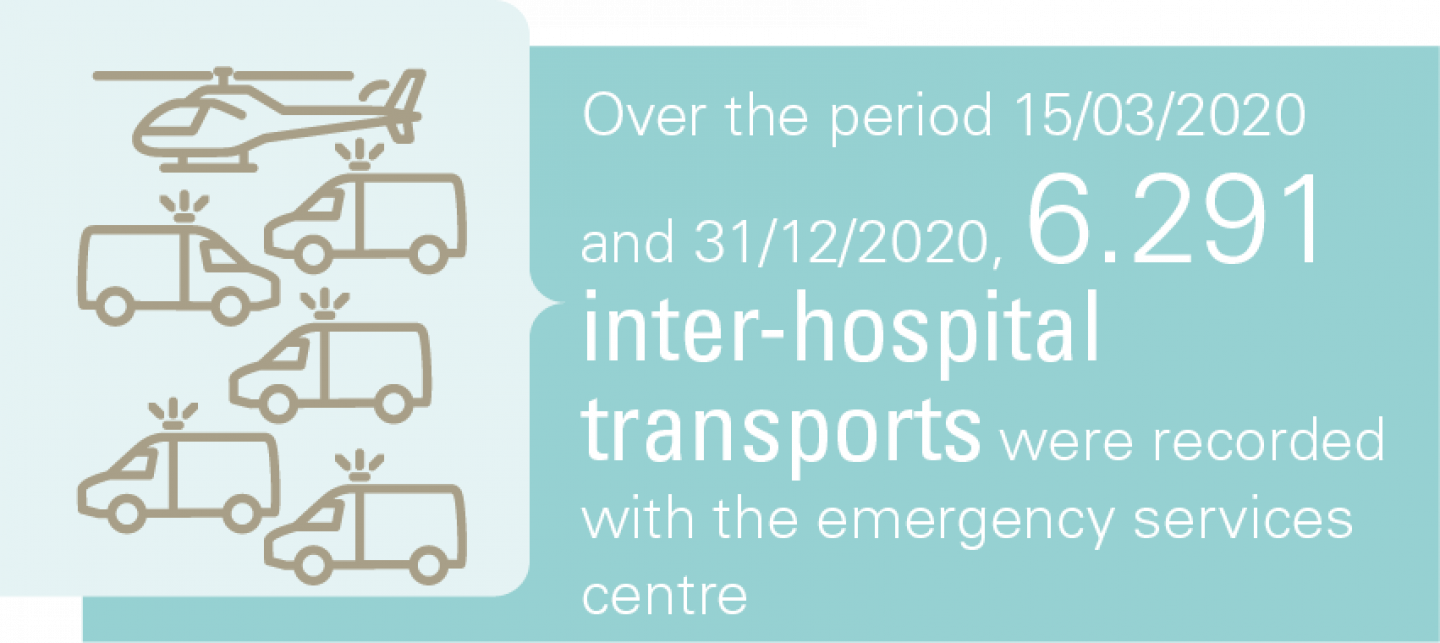 Furthermore, during the pandemic, 32 patients were transferred from Belgium to Germany and 17 patients from France to Belgium for further treatment[3].
Find out more about the Ministry of Defence's operations in tackling COVID-19 (Dutch and French only): beldefnews.mil.be
[1]Source: Sciensano
[2]Source: FPS Home Affairs; the total number of inter-hospital transports is the sum of the number of interventions with an ambulance and a PIT (paramedical intervention team) function, given that a MUG (Mobile Emergency Group) is always called in as back-up and does not transport the patient.
[3]Source: PECC; Figures relate to the period 1/03/2020 to 31/05/2021