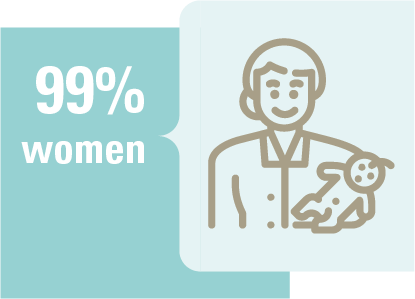 Midwifery is largely dominated by women, who make up 99% of the profession. In 2019, of the 8,416 active midwives, only 99 of them were male.
In 2019, 14,863 professionals were licensed to practise midwifery in Belgium. Of these, 57% were working in health care (i.e. 8,416 practising midwives), 14% were active outside the healthcare sector, 21% were not working in Belgium and 8% were retired.
Almost half of the midwives working in health care were under 35 years old.
DISTRIBUTION OF MIDWIVES BY ACTIVITY STATUS AND COMMUNITY, 2019
DISTRIBUTION OF ACTIVE MIDWIVES IN HEALTH CARE BY AGE, 2019
Two thirds of them were active in the Flemish Community and one third in the French Community. Most of them were working as employees in hospitals.
The density of midwives working in health care in Belgium was higher in the Flemish and Brussels-Capital Regions than in the Walloon Region (8.1 and 9.7 versus 5.2 respectively).
SECTOR OF ACTIVITY OF MIDWIVES WORKING IN HEALTH CARE IN 2019
| | |
| --- | --- |
| FLEMISH COMMUNITY | FRENCH COMMUNITY |
NUMBER OF MIDWIVES WORKING IN HEALTH CARE PER 10,000 INHABITANTS BY ACTIVITY DISTRICT (31/12/2019)
PROFESSIONAL STATUS OF MIDWIVES WORKING IN HEALTH CARE IN 2019
In the midwifery supply and demand projection exercise, we find that the need for midwifery care by 2037 is expected to remain stable while the number of midwives active in health care is projected to increase by just over 30% between 2020 and 2037 (in individuals and full-time equivalents).
SIZE OF EACH SEGMENT OF THE FEMALE POPULATION IN CURRENT AND FUTURE MIDWIFERY CARE IN RELATION TO ITS DEMOGRAPHIC CHANGE[1]
EVOLUTION OF THE NUMBER OF MIDWIVES ACTIVE IN HEALTH CARE AS INDIVIDUALS AND FULL-TIME EQUIVALENTS FROM 2004 TO 2019 AND PROJECTIONS TO 2042
[1]Explanation of the weighted population: the 'gross' population projections by the Federal Planning Bureau and the Belgian Statistical Of-fice are multiplied by a consumption rate based on consumption rate based on the consumption of care "honoraria of midwives" by the NIHDI. The average total amount reimbursed by the NIHDI is calculated per community and is the reference value. The rate of health care consumption for each segment of the population is then calculated in relation to this reference value.