On 30 March 2015, the Interministerial Conference on Public Health (IMC) approved the "Guide to a new mental healthcare policy for children and young people (GMCY)". Almost immediately, 11 GMCY networks were set up, focusing on children and young people within their area of action.
The areas of action of these networks coincide with the territories of the provinces and the Brussels-Capital Region[1].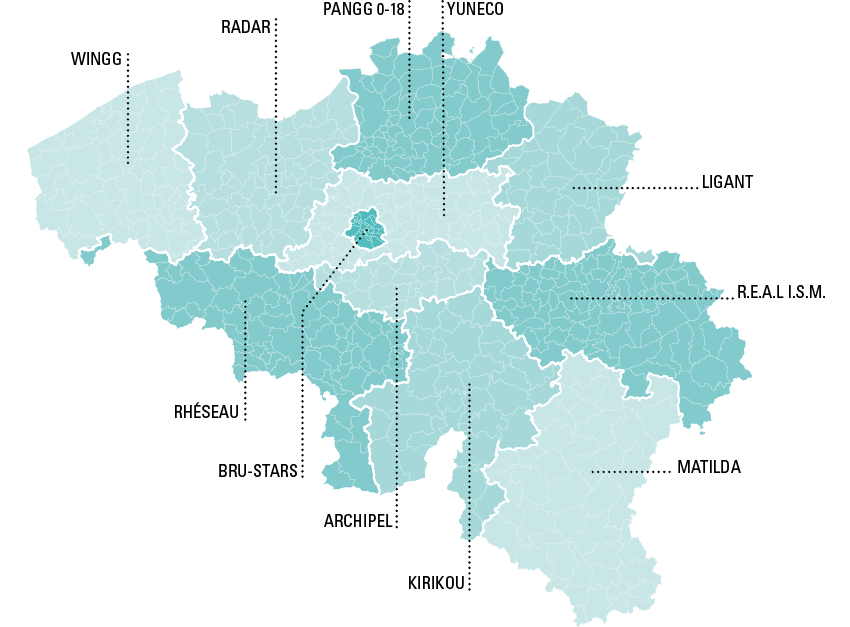 A GMCY network provides a comprehensive and integrated range of services for all children and young people aged 0-23 with mental and/or psychiatric problems. The aim is to respond to the needs of these children, young people and their context or environment as quickly and continuously as possible. Each network consists of all the relevant actors, services, institutions, care providers, etc. of the sectors involved working together and coordinating their policies.
To optimise the care, investments are made in developing various programmes financed by the federal government, namely crisis care, long-term care, intersectoral consultation and liaison (expertise and knowledge exchange) and dual diagnosis (a mental disability combined with psychological problems). More than 300 additional FTEs are made available to the networks[2].
Learn more about the several initiatives in the field of mental health care for children and youngsters: www.psy0-18.be
[1] Although in the German-speaking Community there is a specific pilot project for following-up of children and young people with mental and psychiatric problems financed by the federal government, this does not form a separate GMCY network but is part of REALiSM, the GMCY network of the Province of Liège.
[2] This funding is not done by freezing beds (see chapter 'Initiatives regarding alternatives to hospitalisation').