Belgium has 51 psychiatric hospitals (PH) and 67 psychiatric departments within general hospitals (PDGH) for adults with psychiatric problems[1].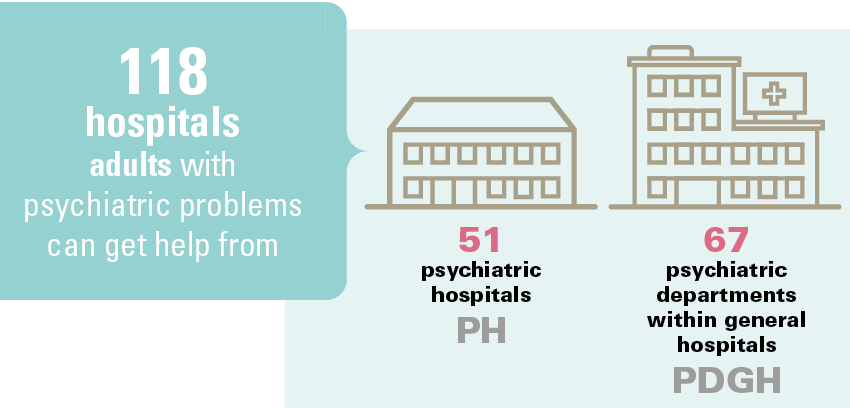 One third of the PDGH have a limited offering of psychiatric care for adults, and have only between 1 and 30 beds in this regard. Nevertheless, there are 11 general hospitals in Belgium that have 100 or more psychiatric beds for adults. In addition, there are a limited number of PH with a very small number of beds, which often primarily provide day care.
Number of PH and PDGH per region broken down according to number of beds (01/01/2020)
The Flemish region clearly has more PH and PDGH compared to the other regions. It is also the only region to have 5 PH with room for more than 500 patients. In the Brussels-Capital region, there are almost twice as many PDGH as PH. Almost half of the PDGH have 100 beds or more. The Walloon Region also has large PDGH, with two having more than 200 beds.
In addition to the supply, the distribution of PDGH and PH also differs according to the region. In the Flemish Region, the distribution of PH and PDGH for adults is the most balanced. We see concentrations around major cities including Ghent, Antwerp and Leuven. On the other hand, the supply of psychiatric services for adults is rather limited in the Westhoek, the Flemish Ardennes followed by the Pajottenland, and the Kempen region, and the north of Limburg. Nonetheless, we can observe that there is a PH or PDGH at every location within a radius of 50 kilometres.
In the Walloon region, the situation is completely different. Almost all PH and PDGH for adults are on the axis Tournai, Charleroi, Mons, Liège, and Verviers. In addition, there are no PH or PDGH in the districts of Thuin, Philippeville, Dinant, Marche-en-Famenne, Neufchâteau and Bastogne.
Distribution of PH and PDGH in Belgium
indicating the number of beds for adults (01/01/2020)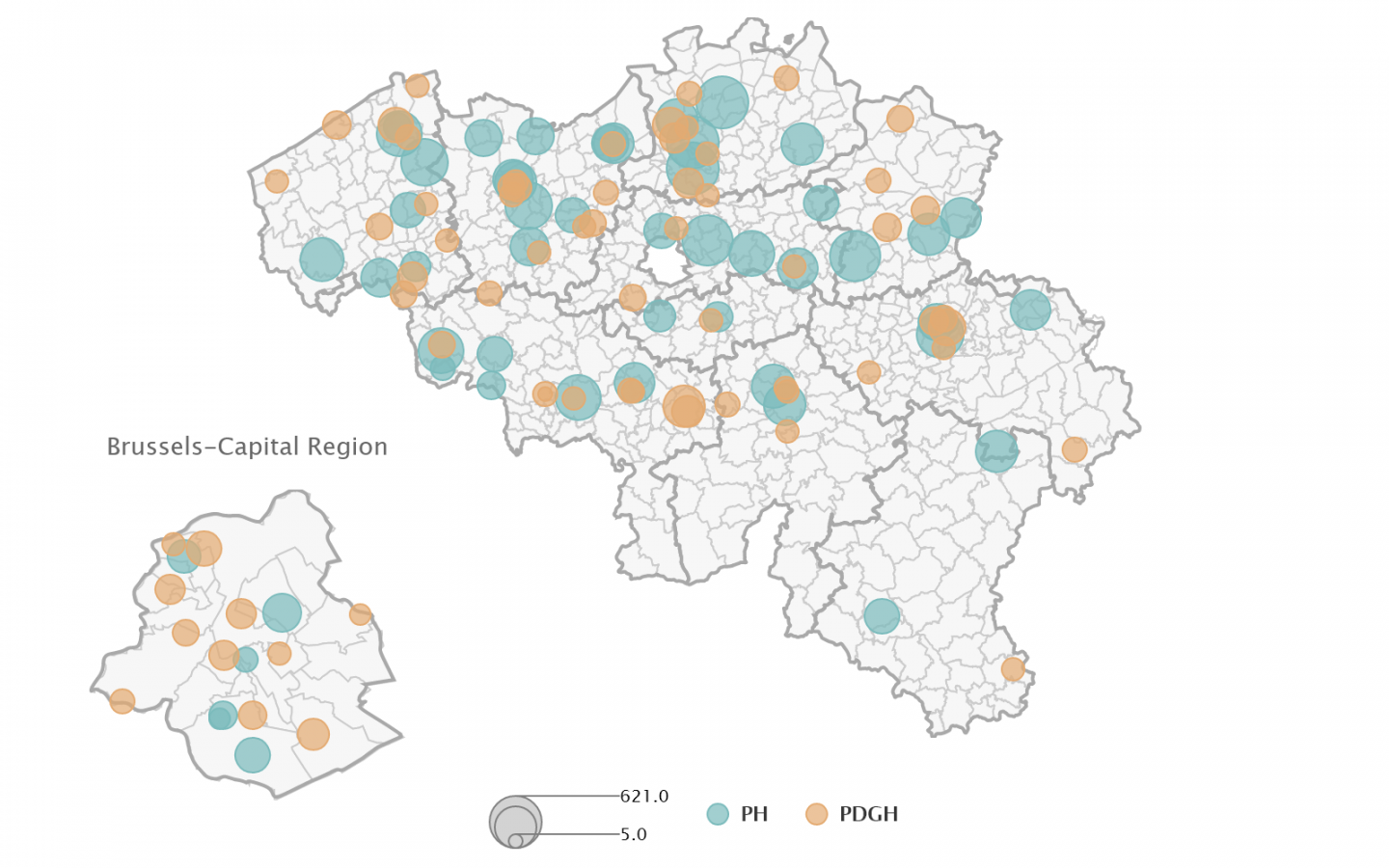 [1] Source: CIC, FPS Health, Food Chain Safety and Environment (1/01/2020)