The pilot project "For K" provides, for each Court of Appeal, for the development of a care pathway specifically for young people with psychiatric problems who are subject to a court order.[1]
156 beds for youngsters under judicial control having a psychiatric problem
Intensive treatment units have been set up for young people who have committed an offence described as a crime (MOF in Dutch) or for young people with a troubled upbringing situation (TUS).
Moreover, each project has a number of K-crisis beds that are not counted in the number of recognised K-beds.
Number of beds per Court of Appeal in the context of the "FOR-K" project[2]
In Brussels, this provision is complemented by a form of Sheltered Housing (8 places) for young people with psychiatric problems with a court order.
[1] More information on the supply, use and need for these treatment units can be found in this publication by the KCE
[2] Source: Psycho-social Healthcare Service, FPS Health, Food Chain Safety and Environment
In 2013, there were 1,169 inmates staying in a Belgian prison. The figure has since fallen to 609.
Internment is a legal security measure ordered by the criminal court for persons with mental illness who have committed a crime but who are deemed by the criminal court judges to have not been in control of their actions, and who also pose a danger to society. This criminal internment measure should not be confused with the civil-law involuntary admission, in which no crime has been committed.
It was standard practice for many years for inmates to stay indefinitely in the psychiatric departments of correctional institutions or even ordinary prisons. Because the care provided in these institutions was inadequate, Belgium was regularly criticised by the European Committee for the Prevention of Torture and Inhuman or Degrading Treatment or Punishment. Ultimately, the Belgian State received various convictions from the European Court of Human Rights
Decrease from 1,169 to 609 mental detainees in Belgian prisons since 2013
Under this EU pressure, the governments invested in forensic care and, following new investments by the Ministers of Justice and Health, the so-called "Masterplans" came into being.
The 'Masterplan for Internment' focuses on forensic psychiatric care. It states that every inmate has the right to a place in an appropriate structure. As such, investments were made to set up Forensic Psychiatric Centres (FPC). An FPC is responsible for the reception of internees in a forensic care programme implemented in networks. The forensic psychiatric centres cooperate with regular psychiatric hospitals (PH) in this regard.
In 2014, the first FPC, which accommodates 264 male patients, became operational in Ghent. Three years later, in 2017, a second FPC opened in Antwerp, where 182 patients can be accommodated, 18 of whom female.
The Walloon region has 2 FPC, one in Paifve and one in Wavre, each with 250 places.
Finally, a "Long Stay FPC" is planned in Aalst, which will be able to house 120 inmates.
For women inmates, with both a high-risk[1] and a high-security[2] profile, the special unit Levanta was set up in the psychiatric centre Sint-Jan-Baptist in Zelzate. Levanta has room for 20 women inmates, including 2 crisis beds. The Hôpital Psychiatrique du Beau Vallon in Saint-Servais and Le Chêne aux Haies in Mons, with their special units of 11 and 20 beds respectively, can also take care of such patients.
The other facilities for inmates in the regular PH are generally "Medium Risk / Medium Security". They receive a staff upgrade for taking care of these inmates.
OVERVIEW OF FORENSIC MENTAL HEALTH CARE IN BELGIUM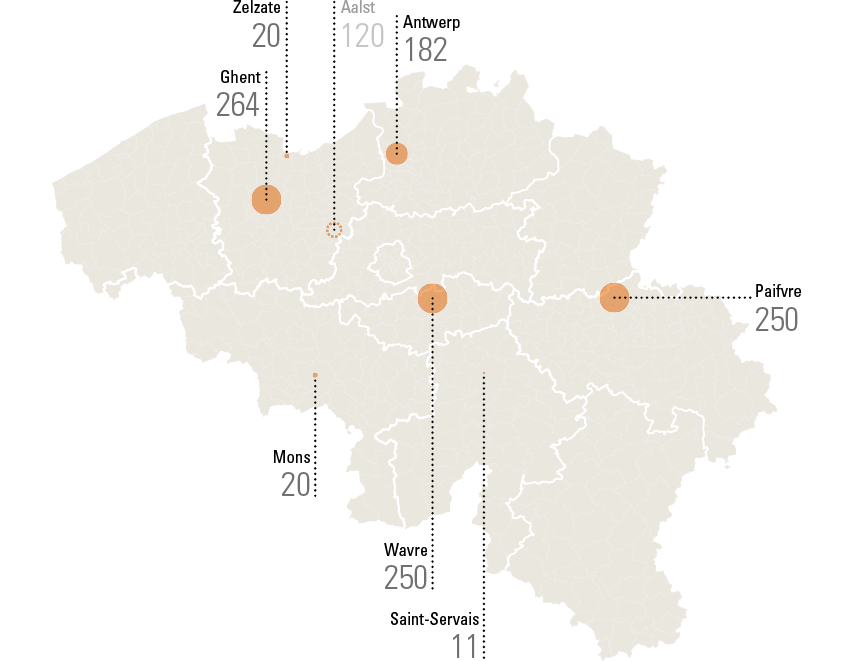 Number of beds in PH reserved for a specific target group
by Court of Appeal[3]
A staff upgrade is also granted in psychiatric nursing homes (PNH) and initiatives for sheltered housing (ISH), for a number of beds or places for the reception of inmates.
Number of beds in initiatives for sheltered housing (ISH)
and psychiatric nursing homes (PNH) to accommodate inmates,
by Court of Appeal[3]
Finally, an outpatient care offering for inmates is being set up:
Outreach is a specific form of extra-mural follow-up and can take place before hospitalisation (psychiatric department of a prison, Institution for the Protection of Society) or after (outpatient care network).
The mobile team 'Care programme for inmates' must guide inmates towards integration in regular care, and draws up a tailor-made care plan for each inmate, in cooperation with the judiciary. The team provides orientation advice, ensures follow-up and gives support to partners in health care, the judiciary, etc. The courts of appeal of Ghent, Antwerp, Brussels (N and F), Mons and Liège have each appointed 1 full-time coordinator.
A Fact team (Flexible Assertive Community Treatment) focuses on people with severe psychiatric disorders and offers treatment and support in various areas of recovery, by reducing psychological and somatic symptoms, promoting social functioning and participation and achieving personal recovery and quality of life.
Number of FTE in outpatient care for inmates by Court of Appeal[3]
Besides care facilities outside prison walls, initiatives have been developed to enhance the quality of care in psychiatric departments of prisons and the internment law has been amended to provide for a more flexible judicial and implementation procedure that better meets the specific care needs of inmates.
[1] Risk of recidivism
[2] Need for security
[3] Source: Psycho-social Healthcare Service, FPS Health, Food Chain Safety and Environment