The introduction of a Pay for Performance programme (P4P)1 is a clear priority in the context of the reform of hospital financing. "Pay for Performance" is a system that rewards hospitals financially if they achieve good results on a selected set of indicators. These indicators are a yardstick for the organisation and processes within the hospital, the care provided and the health outcomes of the treated patients.
In 2018 and 2019, the first P4P indicator sets for Belgian hospitals were developed, consisting of a range of hospital-wide and pathology-specific indicators. These can be seen as a first step towards a fully-fledged P4P programme. A modest start-up, pragmatism, availability of national data and short-term feasibility are four elements that played a role in selecting the indicators. The set of indicators will be optimized in the coming years.
A number of indicators are highlighted below. More detailed information about the 'Pay for performance programme' and the full set of indicators can be found here.
ISQUA ACCREDITATION
In a hospital-wide ISQua (International Society for Quality in Health Care)2 accreditation, the actual quality of care is checked and tested against defined high standards and norms. The accreditation of health care institutions is a mostly voluntary and external evaluation method that refers to a professional process by which a health care institution demonstrates that it meets, in its operation and practices, a set of formalised requirements presented in the form of a manual, i.e. "the reference" recommended by an accreditation body. The accreditation body and its manual are validated by an independent external body, ISQua, which is internationally recognised by hospital professionals. It is a major exercise that has an impact on all departments and all levels in the hospital. Healthcare institutions make great efforts to obtain an ISQua accreditation quality certificate. Hospitals that have already obtained the certificate as well as those that are still in a preparatory phase are financially rewarded through the P4P programme.
PATIENT EXPERIENCE
Measuring patients' experience is important. Patients should be involved as active partners to improve care. Healthcare institutions can use patients' feedback to improve the quality of their care.
The 2019 P4P programme evaluates the patient's experiences in two ways: the patient's level of satisfaction with the hospital stay and the extent to which the patient would recommend the hospital to family and friends.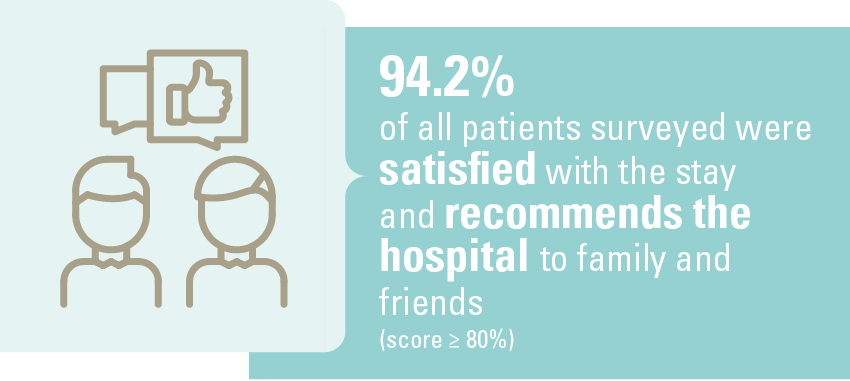 ANTIBIOTIC PROPHYLAXIS DURING IMPLANTATION OF A (PERMANENT) PACEMAKER
Antibiotic policy and infection control are fundamental pillars for the quality of care and also contribute to patient safety. The policy paper of the BAPCOC (Belgian Antibiotic Policy Coordination Committee) for 2014-2019 underlines the importance of continuous monitoring of some quality indicators in hospitals, including the indicator "Choice of the antibiotic in the context of surgical prophylaxis". This is important for optimizing the use of antibiotics to avoid the risk of infection in individual patients and reduce the risk of bacterial resistance for the general population. This indicator measures whether the selection and dose of the antibiotic is in accordance with the antibiotics guidelines for fitting a (permanent) pacemaker3; the time and duration of the prophylaxis are not taken into account. The preferred antibiotic is cefazoline (min. 1 gram to max. 2 grams per day) and an alternative is cefuroxime (1.5 grams per day).
For an average of 53.7% of hospital stays in 2012, 2013 and 2014 with a fitting of a (permanent) pacemaker, antibiotic prophylaxis took place in accordance with the antibiotics guidelines. We see a large variation between hospitals, with 8% of the hospitals achieving the target value of an average of 90%.
[1] Annemans L, Boeckxstaens P, Borgermans L, De Smedt D, Duchesnes C, Heyrman J, Remmen R, Sermeus W, Van Den Broecke C, Van Herck P, Vanmeerbeek M, Willems S, De Gauquier K. Voordelen, nadelen en haalbaarheid van de introductie van "Pay for Quality" programma's in België. Health Services Research (HSR). Brussels: Federal Knowledge Centre for Health Care (KCE). 2009. KCE Reports vol 118A. D/2009/10.273/50.
[2] http://isqua.org/docs/accreditation/cf-001-iap-application-form.docx
[3] Sanford, J.P., Gilbert, D.N., Chambers, H.F., Eliopoulos, G.M., Moellering, R.C., Saag, M.S. The Sanford guide to antimicrobial therapy 2012-2013 (Belgian/Luxembourg edition), 189-197.)