The Key-data focus on general hospitals. As such, they do not cover psychiatric hospitals (which exclusively provide care for people with mental disorders) or specialist hospitals (which exclusively provide geriatric, revalidation or palliative care).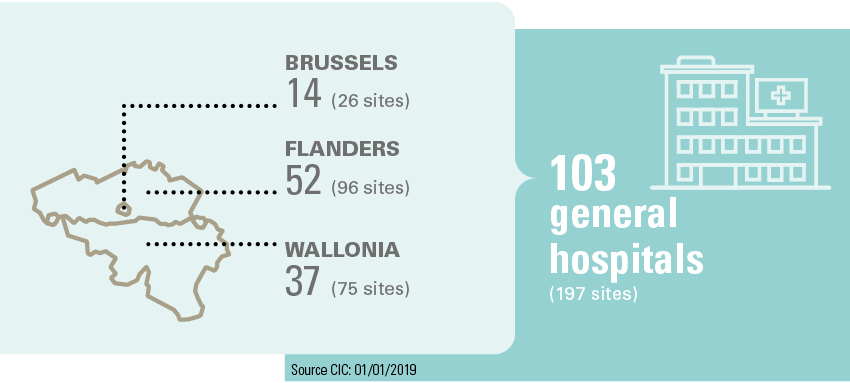 Among the general hospitals, we can distinguish 3 types of hospitals:
'CLASSIC' GENERAL HOSPITALS
These are essentially hospitals that receive patients both by day and by night for specialised medical assistance, and offer surgical and internal medicine treatments, complemented by various other disciplines such as geriatrics, maternity, paediatrics, neuropsychiatry and revalidation, for example.
Some atypical hospitals also fall into this category. During the 6th state reform, it was decided to transfer competence for specialist hospitals (offering exclusively revalidation and/or geriatric services) to the federated entities. While some of the entities in question chose to merge with a "classic" general hospital at the time, others preferred to expand their activities, generally by adding services in the field of psychiatry. By default, these entities are now part of general hospitals, although they do not have a surgical or internal medicine department.
GENERAL UNIVERSITY HOSPITALS
These offer the same services as classic general hospitals, but are also assigned the tasks of training health professionals, scientific research and developing new technologies. They are connected to a university with a medical school offering a full course of study.
GENERAL HOSPITALS WITH A UNIVERSITY CHARACTER
These are general hospitals that have been allocated a number of university beds which are dependent on a university.

Of the 103 hospitals in Belgium, 28% are public as of 01.01.2019, i.e. managed by a public authority (municipality, intermunicipal, province, region, etc.), and 72% are private and run as non-profit organisations. Historically, the latter were the result of religious congregations, mutual societies, free universities or former company hospitals. However, given the large number of hospital mergers in recent decades, many institutions are now a legacy of both the public and private sectors. The Law on Hospitals applies in equal measure to both the public and private sectors, and their financing by the public authorities is identical
Learn more about the location and the different services that the hospitals in Belgium have to offer: