Healthcare-associated infections (infections that occur 48 hours after the day of hospitalisation) are considered a major threat to patient safety. The results of a European study show that in Belgium, at any given time, approximately 7.3% of patients in acute hospitals suffer from a healthcare-associated infection (2017)1 .
According to the World Health Organisation (WHO), good hand hygiene should be promoted as one of the most important interventions to prevent healthcare-associated infections in patients2 . In recent years, various campaigns have been organised in Belgian hospitals to highlight the importance of hand hygiene and improve the use of alcohol gel for hands. Before and after each campaign, hospitals observed the extent to which health care providers comply with the regulations for clean hands (percentage of hand hygiene compliance)3.
The figure4 below shows a clear increase over time and after each campaign in the extent to which the guidelines for hand hygiene are adhered to. During the last campaign, hand hygiene compliance (national weighted average) rose from 71.6% pre-campaign (170 participating hospitals) to 78.0% post-campaign (147 participating hospitals). An improvement was observed among all care providers (on average +7.5%) with the best results for nurses.
[1] Vandael E, Catry B, Latour K. Point Prevalence Study of healthcare-associated infections and antimicrobial use in Belgian acute careVandael E, Catry B, Latour K. Point Prevalence Study of healthcare-associated infections and antimicrobial use in Belgian acute carehospitals: Results of the ECDC PPS 2017. Brussels, Belgium: Sciensano; 2018. 34p. Report Number: D/2018/14.440/37. Availablefrom: http://www.nsih.be/ecdcpps/download_nl.asp
[2] World Health Organisation. (WHO). Antimicrobial resistance: Global report on surveillance. Geneva 2014. Available from: http://apps.who.int/iris/bitstream/10665/112642/1/9789241564748_eng.pdf?ua=1
[3] More information on the methodology and results of the hand hygiene campaign can be found in the national report on the NSIHMore information on the methodology and results of the hand hygiene campaign can be found in the national report on the NSIHwebsite (http://www.nsih.be/surv_hh/inleiding_nl.asp).
[4] Source: National report 7th hand hygiene campagne – www.nsih.be
Bacteria can become resistant to the effects of antibiotics, meaning that they can no longer be killed by these medicines. This resistance has become a major problem in healthcare. Indeed, around 33,000 people die every year in Europe as a result of infection due to antibiotic-resistant bacteria. In Belgium, there are an estimated 530 deaths every year1. The inappropriate use of antibiotics is a major cause of bacteria developing antibiotic resistance. As such, the use of antibiotics must be properly monitored and, where necessary, adapted2.
The results of a study on the use of antibiotics in Belgian acute hospitals from 2017 show that an estimated 28.1% of the patients in an acute hospital are treated with at least one antibiotic at any given moment. This figure is highest in general university hospitals (30.8%) and within intensive care (52.7%). This is to be expected given that more patients with more serious problems are in general university hospitals and in intensive care. The prevalence in all participating European hospitals was 30.5% (spread among European countries: 15.9-55.6%)3.
The figure below shows the median antibiotic consumption per type of hospital for the period 2012-2017. It has been observed that the median antibiotic consumption remains fairly stable over time, but there is a large variation between hospitals4.
In order to limit resistance to antibiotics, unnecessary use of antibiotics must be avoided. If treatment with antibiotics is necessary, it is recommended to use antibiotics within a narrow spectrum, according to the guidelines (only active against a specific group of bacteria). For example, broad-spectrum antibiotics can be stored for complicated cases where narrow-spectrum antibiotics are not sufficient or no longer work. Nevertheless, the use of broad-spectrum antibiotics remains high (about 30% of total antibiotic use in Belgium, spread between European countries): 16-62%5. The large variation in antibiotic use between acute hospitals and the high consumption of broad spectrum antibiotics are attention points for improvement. The KCE wrote some recommendations concerning a more effective antibiotic policy in Belgium. More information can be found on their website.
[1] Cassini A, Högberg LD, Plachouras D, Quattrocchi A, Hoxha A, Simonsen GS, et al. Attributable deaths and disability-adjusted lifeyearsCassini A, Högberg LD, Plachouras D, Quattrocchi A, Hoxha A, Simonsen GS, et al. Attributable deaths and disability-adjusted lifeyearscaused by infections with antibiotic-resistant bacteria in the EU and the European Economic Area in 2015: a population-levelmodelling analysis. Lancet Infect Dis 2019;19(1):56-66.
[2] OECD (2018), Stemming the Superbug Tide: Just A Few Dollars More, OECD Publishing, Paris. Available from:OECD (2018), Stemming the Superbug Tide: Just A Few Dollars More, OECD Publishing, Paris. Available from:https://doi.org/10.1787/9789264307599-en.
[3] Plachouras D, Karki T, Hansen S, Hopkins S, Lyytikainen O, Moro ML, et al. Antimicrobial use in European acute care hospitals:Plachouras D, Karki T, Hansen S, Hopkins S, Lyytikainen O, Moro ML, et al. Antimicrobial use in European acute care hospitals:results from the second point prevalence survey (PPS) of healthcare-associated infections and antimicrobial use, 2016 to 2017. EuroSurveill 2018;23(46). doi: 10.2807/1560-7917.
[4] Source: Belgian Hospitals - Surveillance of Antimicrobial Consumption, Sciensano
[5] The use of antibiotics, in Belgium, is observed via national surveillance (BeH-SAC: Belgian Hospitals – Surveillance of AntimicrobialThe use of antibiotics, in Belgium, is observed via national surveillance (BeH-SAC: Belgian Hospitals – Surveillance of AntimicrobialConsumption). More information about this surveillance can be found via http://www.nsih.be/surv_gm/introduction_en.asp and www.healthstat.be .
The introduction of a Pay for Performance programme (P4P)1 is a clear priority in the context of the reform of hospital financing. "Pay for Performance" is a system that rewards hospitals financially if they achieve good results on a selected set of indicators. These indicators are a yardstick for the organisation and processes within the hospital, the care provided and the health outcomes of the treated patients.
In 2018 and 2019, the first P4P indicator sets for Belgian hospitals were developed, consisting of a range of hospital-wide and pathology-specific indicators. These can be seen as a first step towards a fully-fledged P4P programme. A modest start-up, pragmatism, availability of national data and short-term feasibility are four elements that played a role in selecting the indicators. The set of indicators will be optimized in the coming years.
A number of indicators are highlighted below. More detailed information about the 'Pay for performance programme' and the full set of indicators can be found here.
ISQUA ACCREDITATION
In a hospital-wide ISQua (International Society for Quality in Health Care)2 accreditation, the actual quality of care is checked and tested against defined high standards and norms. The accreditation of health care institutions is a mostly voluntary and external evaluation method that refers to a professional process by which a health care institution demonstrates that it meets, in its operation and practices, a set of formalised requirements presented in the form of a manual, i.e. "the reference" recommended by an accreditation body. The accreditation body and its manual are validated by an independent external body, ISQua, which is internationally recognised by hospital professionals. It is a major exercise that has an impact on all departments and all levels in the hospital. Healthcare institutions make great efforts to obtain an ISQua accreditation quality certificate. Hospitals that have already obtained the certificate as well as those that are still in a preparatory phase are financially rewarded through the P4P programme.
PATIENT EXPERIENCE
Measuring patients' experience is important. Patients should be involved as active partners to improve care. Healthcare institutions can use patients' feedback to improve the quality of their care.
The 2019 P4P programme evaluates the patient's experiences in two ways: the patient's level of satisfaction with the hospital stay and the extent to which the patient would recommend the hospital to family and friends.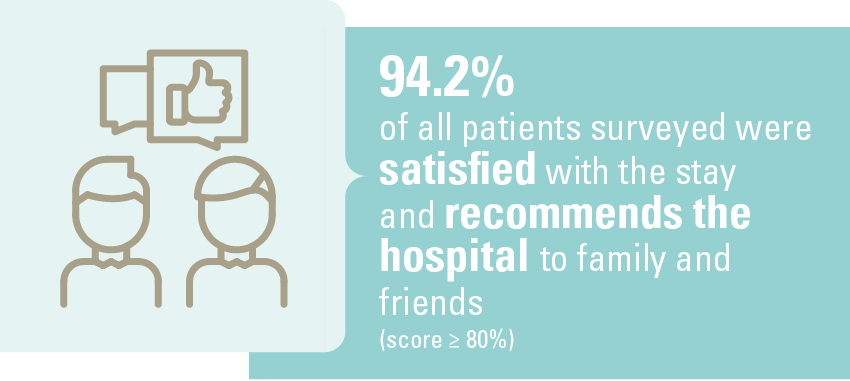 ANTIBIOTIC PROPHYLAXIS DURING IMPLANTATION OF A (PERMANENT) PACEMAKER
Antibiotic policy and infection control are fundamental pillars for the quality of care and also contribute to patient safety. The policy paper of the BAPCOC (Belgian Antibiotic Policy Coordination Committee) for 2014-2019 underlines the importance of continuous monitoring of some quality indicators in hospitals, including the indicator "Choice of the antibiotic in the context of surgical prophylaxis". This is important for optimizing the use of antibiotics to avoid the risk of infection in individual patients and reduce the risk of bacterial resistance for the general population. This indicator measures whether the selection and dose of the antibiotic is in accordance with the antibiotics guidelines for fitting a (permanent) pacemaker3; the time and duration of the prophylaxis are not taken into account. The preferred antibiotic is cefazoline (min. 1 gram to max. 2 grams per day) and an alternative is cefuroxime (1.5 grams per day).
For an average of 53.7% of hospital stays in 2012, 2013 and 2014 with a fitting of a (permanent) pacemaker, antibiotic prophylaxis took place in accordance with the antibiotics guidelines. We see a large variation between hospitals, with 8% of the hospitals achieving the target value of an average of 90%.
[1] Annemans L, Boeckxstaens P, Borgermans L, De Smedt D, Duchesnes C, Heyrman J, Remmen R, Sermeus W, Van Den Broecke C, Van Herck P, Vanmeerbeek M, Willems S, De Gauquier K. Voordelen, nadelen en haalbaarheid van de introductie van "Pay for Quality" programma's in België. Health Services Research (HSR). Brussels: Federal Knowledge Centre for Health Care (KCE). 2009. KCE Reports vol 118A. D/2009/10.273/50.
[2] http://isqua.org/docs/accreditation/cf-001-iap-application-form.docx
[3] Sanford, J.P., Gilbert, D.N., Chambers, H.F., Eliopoulos, G.M., Moellering, R.C., Saag, M.S. The Sanford guide to antimicrobial therapy 2012-2013 (Belgian/Luxembourg edition), 189-197.)
'Medical imaging' is a collective term for various techniques for obtaining an image of the body. In hospitals, medical imaging is used to diagnose, detect and monitor diseases at an early stage, support medical interventions and evaluate treatments.
The following heavy-duty medical imaging devices can be distinguished:
CT: In computer tomography, X-rays are used to make cross-sections of the inner body. As such, the patient is 'scanned', as it were. This device is therefore colloquially referred to as 'the scanner'.
MRI: Magnetic Resonance Imaging uses a strong magnetic field and radio waves to image the inner body.
SPECT-CT: a radioactive product that is injected is used here. The radiation is then measured with detectors that rotate around the patient. The measurements are then added to CT images in order to clearly see where the injected product is distributed.
PET (including PET-CT and PET-MRI): As with SPECT-CT, a radioactive product is used. The radioactive product used in PET has the unique characteristic that it can always be measured in two directions. By combining the information from 2 measurements, doctors obtain a highly accurate picture of the distribution of the injected product. The above techniques all have their strengths and weaknesses. There is therefore no generally applicable technique. What is a good imaging technique for one disorder is not always the same for another.
These are the devices which have the necessary accreditations and permissions and which were reported to the FPS Public health
Medical imaging has played a major role in the enormous progress made in modern medicine and plays an every greater role in our healthcare. However, there is also a downside to the frequent use of techniques such as CT scans, namely the increased exposure to ionising radiation. In comparison with other countries, many CT scans are performed in our country. The bar chart below shows the number of CT studies per 100,000 inhabitants per country for the years 2011 and 2016:
Note: Ireland and Sweden, not available.
(1) Hospitals only.
(2) 2011: not available.
(3) 2011: definition differs.
(4) Break in series.
(5) 2012 instead of 2011.
(6) 2015 instead of 2016.
(7) 2013 instead of 2011.
Source: Eurostat (online data code: hlth_co_exam)
To inform the sector and the public about the importance of the correct use of medical imaging, the FPS Public Health launched an annual campaign between 2012 and 2016, called "Medische beelden zijn geen vakantiekiekjes" (Medical images are not holiday snapshots).

The campaigns had a wide reach, so citizens were better informed and inclined to ask questions to their doctor more rapidly1. This was reflected, among other things, in a decrease in the number of CT scans among children and young people under the age of 20.

MEDICAL IMAGES ARE NOT HOLIDAY SNAPSHOTS

Would you like to know more? Go to

or get information from your GP or specialist
Overall, however, the use of CT scans in our country continues to increase. The large number of CT scans means that the Belgian public is exposed to more radiation. Since MRI scans (as opposed to CT scans) do not involve a radiation risk and can be an alternative to CT scans for certain indications, the FPS Public Health collaborates with the INAMI/RIZIV and experts from the sector in order to obtain a shift from using CT scans to MRI scans. In this regard, it is important that the offering is well attuned to the needs. To determine the supply of medical imaging equipment objectively, the ratio of the number of equipment per 100,000 inhabitants per region was calculated. In order to bring this ratio more into line with the different parts of the country, the number of MRI devices was increased in 2014 by 12 devices (protocol agreement of 24 February 2014). Following an evaluation of this expansion, it was decided in 2018 to expand the number of MRI devices again, this time by 18 devices (follow-up protocol of 5 November 2018). These new devices will be operational in hospitals within two to three years.
[1] For more information about the results of the inquiry, take a look at: http://www.becaremagazine.be/nl_NL/2479/39752/belgian_medical_imaging_platform_belmip.html
Learn more about data related to quality initiatives:
Belgian Antibiotic Policy Coordination Committee (BAPCOC):