According to the data presented above, the Brussels-Capital Region has the highest number of beds per 100,000 inhabitants. In second and third place we find West Flanders and Hainaut respectively. Walloon Brabant and Flemish Brabant, on the other hand, are the provinces with the lowest number of beds.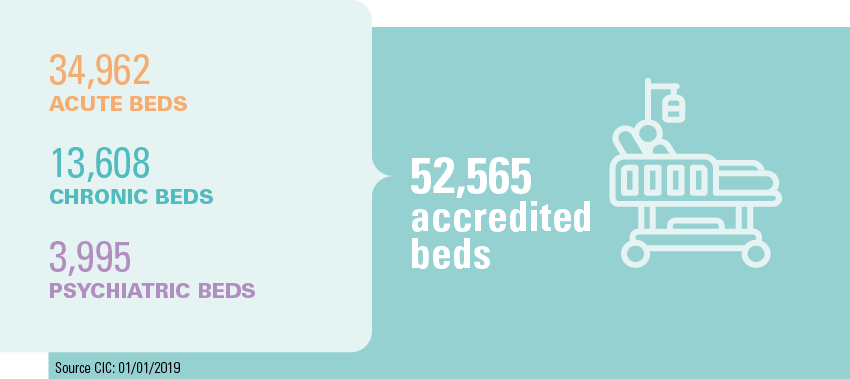 Hospitalisation services are grouped into "care units" in each hospital. Each of them offers a specific form of care for a subgroup of patients. For each service, an index identifying the subgroup of patients is assigned. More than 25 specific indexes are used to classify these services.
Each service within the hospital must be accredited and meet specific standards, including minimum bed capacity, occupancy rate or required level of activity, technical equipment and type and number of medical, paramedical and nursing staff.
In order to give a better overview, we can group the different types of hospitalisation services according to whether they are more acute/chronic or more somatic/psychic in nature.
"Acute" beds: for short stays, i.e. stays that do not require long-term treatment: e.g. surgery (index C), internal medicine (index D), paediatrics (index E), care of premature infants (index NIC), maternity (index M).
"Chronic" beds: for longer-term hospitalisations or for patients requiring chronic treatment: geriatrics (index G), revalidation (index S1 for cardiopulmonary pathologies, S2: locomotor pathologies, S3 for neurological pathologies, S5 for chronic polypathologies and S6 for psychogeriatric pathologies), palliative care (index S4).
"Psychiatric" beds: intended for the care of patients, possibly only during the day or at night with mental disorders: observation and neuropsychiatric treatment for adults (index A, A1, A2, T and T1) or for children (index K, K1 and K2).
The general evolution in the number of accredited beds between 1990 and 2019 is decreasing. Indeed, a decrease of 3,762 accredited beds has been recorded. Nevertheless, between 2010 and 2015, a small increase in accredited beds can be observed as a result of mergers between general and specialist hospitals.