The Key-data focus on general hospitals. As such, they do not cover psychiatric hospitals (which exclusively provide care for people with mental disorders) or specialist hospitals (which exclusively provide geriatric, revalidation or palliative care).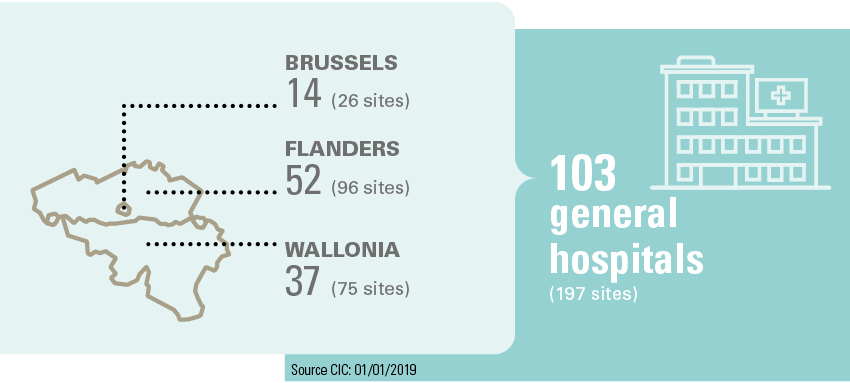 Among the general hospitals, we can distinguish 3 types of hospitals:
'CLASSIC' GENERAL HOSPITALS
These are essentially hospitals that receive patients both by day and by night for specialised medical assistance, and offer surgical and internal medicine treatments, complemented by various other disciplines such as geriatrics, maternity, paediatrics, neuropsychiatry and revalidation, for example.
Some atypical hospitals also fall into this category. During the 6th state reform, it was decided to transfer competence for specialist hospitals (offering exclusively revalidation and/or geriatric services) to the federated entities. While some of the entities in question chose to merge with a "classic" general hospital at the time, others preferred to expand their activities, generally by adding services in the field of psychiatry. By default, these entities are now part of general hospitals, although they do not have a surgical or internal medicine department.
GENERAL UNIVERSITY HOSPITALS
These offer the same services as classic general hospitals, but are also assigned the tasks of training health professionals, scientific research and developing new technologies. They are connected to a university with a medical school offering a full course of study.
GENERAL HOSPITALS WITH A UNIVERSITY CHARACTER
These are general hospitals that have been allocated a number of university beds which are dependent on a university.

Of the 103 hospitals in Belgium, 28% are public as of 01.01.2019, i.e. managed by a public authority (municipality, intermunicipal, province, region, etc.), and 72% are private and run as non-profit organisations. Historically, the latter were the result of religious congregations, mutual societies, free universities or former company hospitals. However, given the large number of hospital mergers in recent decades, many institutions are now a legacy of both the public and private sectors. The Law on Hospitals applies in equal measure to both the public and private sectors, and their financing by the public authorities is identical
Learn more about the location and the different services that the hospitals in Belgium have to offer:
The hospital is characterised by its activity, organised into services, functions and care programmes.
Services group together activities that have a specific location within the hospital. A distinction is made between hospitalisation services, where patients reside during their stay in hospital, and medical or medico-technical services, where certain specific services requiring special expertise or equipment are provided. Medical services include transplant centres or centres for burn victims. Medical-technical services include medical imaging services (CT-scan, NMR, Pet-Scanner, etc.), human genetics centres, radiotherapy services and kidney dialysis centres.
Functions are hospital activities made available to all hospital departments. Various functions are subject to specific standards and control by the accreditation authority (community or region): hospital pharmacy, palliative care, intensive/emergency care, hospital blood bank, mediation, pain management, clinical biology laboratory, etc.
Care programmes can be defined as an organisational framework for implementing "care pathways" for a target group of patients. They are the result of an arrangement between hospitalisation services, medical or medico-technical services and functions necessary for quality care.
There are currently various care programmes:
The "cardiac pathology" care programme which is offered to patients with heart rhythm disorders or heart failure. It includes various sub-sections related to different types of treatments: invasive or interventional procedures, electrophysiology, pacemaker placement, and heart transplants.
The "reproductive health" care programme, which includes various activities such as the diagnosis and treatment of fertility problems, including indications regarding the use of AMP (Assisted Medical Reproduction) techniques.
The oncology patient care programme, which includes a 'basic' version and a more specialised version. A specific programme is also described for the treatment of breast cancer.
The care programme for children, which focuses on the diagnosis, treatment and follow-up of diseases in children and provides a framework, infrastructure and equipment that are perfectly adapted to the needs of children.
The geriatric patient care programme, which targets the geriatric patient population with an average age above 75 years who require a specific approach due to age-related co-morbidities or fragilities. The programme is based on the diagnosis, therapeutic process and revalidation of the geriatric patient in close collaboration with front-line professionals.
The cerebrovascular accident care programme (CVA), subdivided into 2 sub-programmes: one with non-invasive care, the other for invasive treatments.v
Overall, nursing staff (nurses and orderlies) represent just over half of the full-time equivalents in hospitals. However, the figures1, shown in the graph below, largely underestimate medical activity, as many doctors work with self-employed status and are therefore not reported as 'hospital staff'.
In addition, over time, the volume of FTEs hired by hospitals is increasing in all professional categories. This may seem strange given the reduction in the number of accredited beds, but it should be noted that the number of hospital stays, and therefore the number of patients admitted, continues to increase over time (see below – chapter Care activity). In total, over 4 years, the volume of staff in general and university hospitals has increased by 7,171 full-time equivalents (+6%).
[1] Source: Finhosta